DONATE TO LOVE UGANDA FOUNDATION PROJECT.
The Love Uganda Foundation is a registered non government organisation that has its genesis in 2006, and was formally registered and recognized by the government of Uganda in 2014 as a non-profit organization. Our founder the late Emmanuel McMillan Kitumba was a very generous and passionate man who loved helping others. He was able to steer the cause from just a church ministry to a full charity organization.
Before he went on to meet the Lord, Emmanuel had acquired a home that was accommodating 30 orphaned children and 2 caretakers in his home community of Kalagi, located in Mukono District. Following his death and destruction of the Kampala office, unknown people called ownership of the land and it was hence lost. The home was dissolved and the children returned to the known remaining relatives. It was a tough time for the organization but hope is always the last thing we lose.
In 2016, Emmanuel's brothers led by Robert Paul Kyeyune embarked on reviving the dream of the late and the vision of the foundation. Together with Kisakye Joshua, Kyoyita Israel and few friends the foundation was back on its feet with door to door outreaches but with a great goal of reestablishing the orphanage home.
It was surely reward for the good work done in July 2017 when Ms. Joan Belford from the United States made a very generous contribution to restore the children's home. Today the home operates housing 20 children and a caretaker. However, the home was acquired on a tenancy basis so there is need to construct a new permanent home.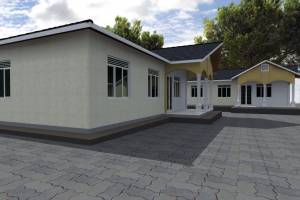 You too can be just like Ms. Joan Belford and help achieve the goal of our own home. The project is expected to cost about 70,000,000/= Uganda Shillings amounting to a tune $20,000. The project is a three phase strategy comprising of preparation, implementation and terminal process. It is to be located in Kalagi, Mukono district, one of the areas greatly affected by HIV/AIDS and gross poverty.
The new orphanage home is aimed at developing the right infrastructure to match the growing needs of the foundation as well as provide a conducive environment for children between the ages of 3-16 years. Be an agent of age and make a donation towards this project. It's a way you can leave behind a legacy by touching the lives of the vulnerable children and communities in need. Donate now and empower the next generation.