Love Uganda Foundation is an NGO founded in 2012, as a charity foundation with 10 helpless children, with the intent of empowering the next generation. Love Uganda Foundation envisions promoting and advancing the lives of the disadvantaged and vulnerable children, through empowering lives and transforming communities with a holistic approach to education, spiritual growth and social development. Love Uganda Foundation distinguishes its work through a triune setting, with the childcare/orphanage program, community development projects and the child sponsorship program. Love Uganda Foundation strongly stands on the Christian principals and morals, as was established by the founder of the organization. However, this does not limit the organization`s scope in supporting people from all walks of life regardless of their religion.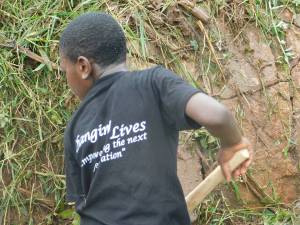 The Child care / orphanage program is one of the major internal programs of Love Uganda Foundation with an orphanage in Kalagi – Mukono district. The orphanage accommodates children orphaned as a result of natural circumstances such as the death of both parents, abandonment by family and relatives due to issues such as physical deformity and illnesses that can be treated. The children`s home currently houses 21 children who are nurtured and molded under the guidance of a mother in the family institute, and they are groomed to be morally upright as well as skilled to empower the future generations after them. At the children`s home, the children are provided with quality education, food, clothing, shelter and medication, as well as godly principles. Although the current home in Kalagi is rented, there is an ongoing project (BUILD A HOME), where Luf is looking up to having a home of its own which can accommodate 50 Orphan children and above, with the help of God, Luf has acquired its own Land as starting point on which the home is to be build. For more information about this project, contact: info@loveugandafoundation.org / loveugandafoundation44@gmail.com or call (Whastapp): +256772633920.
The sponsor a child program is intended to support the education and wellbeing of the orphans.
This program is divided into two, with sponsorship of a child at the orphanage and the external program which supports Orphans or Needy children in their respective communities or villages under the "Keep An Orphan in School" campaign. Under this program, orphans are catered for within the Orphanage or in their respective communities, and it mainly supports Vulnerable Children who cannot get access to quality education, single orphans whose single parents are no longer capable of educating them or full orphans under the care of relatives. For more information about the "Keep An Orphan in School" contact: Sponsorship@loveugandafoundation.org or call (Whastapp): +256772633920.
The community outreach program deals with the empowerment of various hurting communities in the further rural areas of Uganda. This program looks at improving a community`s state of welfare basing on the needs of different categories of vulnerable people like orphan, Vulnerable and disabled Children, widows and Elderly people. The outreaches are carried out in form of workshops where masses are educated about issues that concern them like Sanitation and health, poverty eradication, business knowledge, environmental conservation programs etc. This program enables the organization to extend its generosity and love towards the communities and in so doing promote the desire to empower the future generations.
This program also includes the schools outreach mission through which Love Uganda Foundation reaches out to on-going school children and empowers them with life skills and positive values in life through teaching them godly character and equipping them with various social life skills such as health, hygiene, abstinence, purity, and the English language as an official medium of communication. This program is mainly carried out in primary schools that Love Uganda Foundation partners in order to freely deliver these services to the community regardless of the religious denomination of the school.
The community outreach program also includes the Love Activity Charity project which is carried out on form of different campaigns for example; Empower Women and the Elderly, Keep An Orphan in School, Combat Early Girl Child Marriages and Pregnancies, A healthy living etc. These campaigns seek to keenly address certain issues that affect different categories of people in the communities through empowerment, sensitization and trainings.
Love Uganda Foundation seeks after the empowerment of future generations, and for this to be achieved, we need to get our hands together, join in the move and together make the difference that we want to see, through partnership with Love Uganda Foundation, Raising awareness, Sponsorship, Donating, Starting a Fundraising Campaign or even Safari with our sister Company Love Uganda Safaris & Tours Ltd https://www.loveugandasafaris.com/ , by doing so you will be indirectly donating to Love Uganda Foundation whereby the 40% of your trip will directly go to fund LUF activities.