ABOUT LOVE UGANDA FOUNDATION 
Overview:
Love Uganda Foundation is a charity organization operating currently in Uganda, with offices located after Kalagi Roundabout in Mukono district, . Our orphanage is located in Mukono district, Kalagi town, Nakanyonyi Village about 25 miles from the capital city, Kampala.
Love Uganda Foundation began in 2006 as a small outreach ministry operating in both Kampala town and Mukono town. It was founded by the late Emmanuel MacMillan Kitumba. Emmanuel had a passion for helping the needy in his community. From childhood, he dreamed that when he was financially able to, he would go back and make his community a better place.
His parents, Pastor Sam Sekirime and Mrs. Robina Sekirime helped nurture Emmanuel's dream by bringing him up in the ways of the Lord. As the Scripture says: "Train up a child in the way he should go, that when he or she is grown, they will not depart from it" Proverbs: 22:6. With this strong foundation in Emmanuel's life, it was only to be expected that his life would bear much good fruit.
In 2008, after Emmanuel completed his theological course under the sponsorship of Mr. Andrew McMillan, he decided to ask his sponsor, Mr. McMillan, on how he could repay his gratitude towards him. He had already adopted Mr. McMillan's surname. Mr. McMillan said, "Do to others what has been done to you". This was a perfect confirmation of what the Lord had placed for so long within Emmanuel's heart.
The Late Emmanuel opened the Foundation called Love Uganda Foundation in 2012, and in 2014, the foundation was officially registered  as a Community Based Organization (CBO) number 178298 and in 2019, LUF was officially recognized as An Indigenous NGO by the government of Uganda with NGO Registration Number INDR141921543NB and Permit Number INDP0001543NB
As of now, Love Uganda Foundation is trying to address major issues affecting our Ugandan communities at large. These include but not limited:
Under-age marriages and teenage pregnancies
Disabled & Orphan Children
Domestic violence
HIV/AIDS pandemic
Child abuse.
School dropouts.
We support poverty eradication programs, widows, and empowerment of women, programs for the disabled, Sanitation and Health sensitization, among many others.
OBJECTIVE
The major objective of the charity organization/ Foundation is to Empower the next generation through provision of quality education and mentorship, providing essential needs to the underprivileged children, Widows, elderly people, Teenage mothers, school dropout and those at risk of dropping out of school . We aim to provide these services for the underprivileged children in the children's home (Love Uganda Foundation Orphanage) and around the community, providing food to the Elderly people, Vocational skilling the widows, teenage mothers, school dropouts and providing counselling & providing sponsorships for those at risk of dropping out of school.
In the early period, the Foundation carried out the following activities to support and achieve this objective:
raising awareness in the community,
Elderly home visiting,
Renting a home for the orphans which accommodates 30 children 17 boys and 13 girls between the age of 2 years- 17  years currently and providing them with the basic needs of life.
Providing Quality education to the Underprivileged children in the Orphanage and around the community through sponsorships.
Vocational skilling of Widows, Teenage mothers, and school dropouts.
Helping disabled people more especially children.
monitoring families with children at risk,
resource mobilization
VISION STATEMENT:
Promoting and advancing the life of disadvantaged and vulnerable Children through empowering lives and transforming communities with a holistic approach in Education, Spiritual growth and Social development.
MISSION STATEMENT
Our mission statement is "Giving hope to Orphans, Needy, Vulnerable and Disabled children.
We are in a position to achieve this by providing the children with Medical care, good feeding, Quality Education, Shelter, clothing. counselling & guidance, vocational skilling and spiritual development.
GOALS
To construct infrastructure that matches with the growing needs of Love Uganda Foundation Orphanage as a reputable Children center in Uganda.
To obtain resources to support the mission and realize a reasonable benefit for the key stakeholder.
To network with Agencies/NGOs working with orphans, Needy, Vulnerable and Disabled children among others for mutual benefits and referral support.
To create awareness among children and communities in matters concerning children's health issues like home hygiene, water source maintenance, training members in all preventive measures concerning health related problems in schools and communities.
CHALLENGES FACED BY ORPHANS IN UGANDA – THE CONTEXT OF OUR WORK
Over the past decade, the number of orphans and vulnerable children living in Uganda has been escalating at an alarming rate. In 2004, the number of orphans was estimated to be 1.8 million; in 2009 that number had grown to nearly 2.6 million. Over one million of those children have lost their parents to HIV/AIDS-related complications and suffer the following problems that challenged us to start up a stretching hand to the orphans, vulnerable and needy children in Uganda:
Extreme Poverty:
Many of these children are deprived of their basic needs due to high levels of poverty. Nearly half of the population lives below the poverty line, out of which 19% are children. Uganda's rural areas in particular struggle with a very high poverty rate
Caretaking:
After their parents die or become disabled by illness, orphans and vulnerable children as young as five years old become both mother and father to their younger siblings. Those whose parents suffer from HIV/AIDS face an additional burden of care as complications develop and worsen over time. Children are forced to drop out of school as they try and provide necessities for their siblings.
Unfair wages:
Orphans have to find work wherever they can due to their lack of education and resources: laboring in fields, tending cattle, carrying water, or other back-breaking tasks. When they can find work, orphans are often paid unfair wages because they have no alternative but to accept whatever is given. When there is no work, they must beg for or steal food to ward off starvation. Survival becomes a daily struggle.
Exploitation:
Living in extreme poverty without the support of their parents, orphans are vulnerable to additional kinds of exploitation. Neighbors and occasionally relatives can take advantage of them because they know that there is no longer an adult to enforce the children's property rights. Orphans are also vulnerable to physical abuse. These children are beaten and sometimes mutilated after they are driven by hunger to steal small amounts of food to eat. Girls are subject to sexual exploitation when they face the hard choice of selling their bodies for food or watching their families go hungry.
Isolation:
Many of these children live in communities where there are widespread misconceptions about the causes of HIV/AIDS. After their parents die from HIV/AIDS-related complications, they are shunned by neighbors and community members for fear of catching the disease. Orphans find themselves isolated within their communities, surrounded by those who are unwilling or unable to reach out to them.
It was while facing these serious issues that Love Uganda Foundation was formed.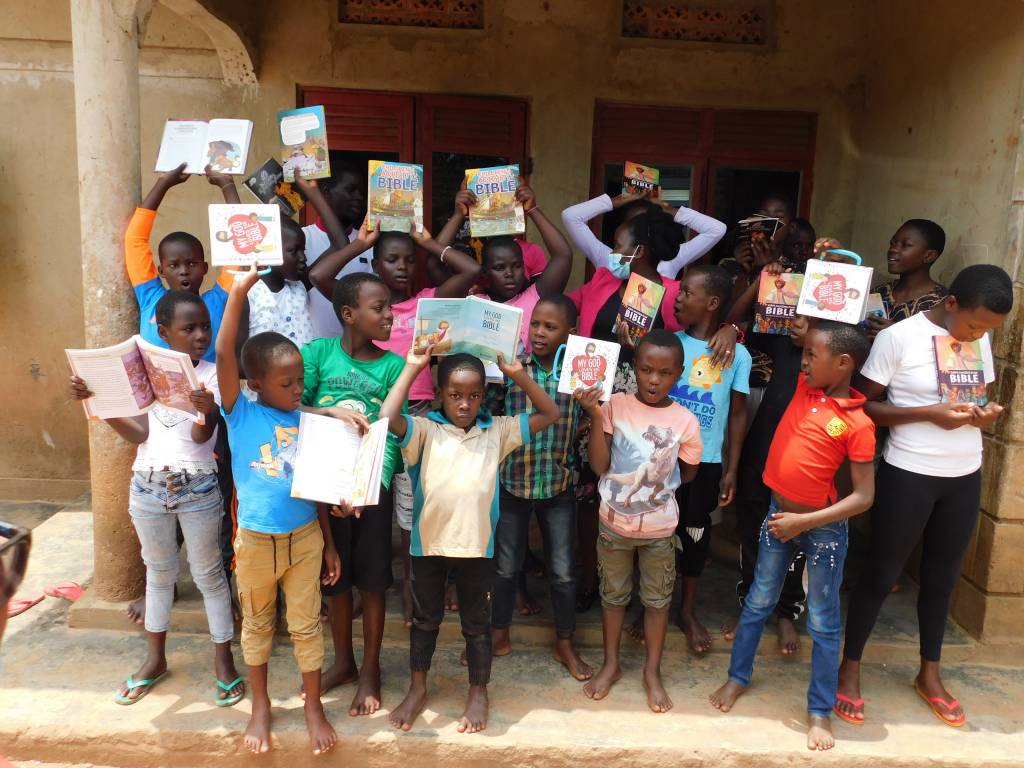 Core competencies:
We believe that every one of our children must be exposed to at least six core competencies that we consider necessary to excel in this world today:
Ethics and integrity
Entrepreneurship
Spiritual development
ICT
Environmental Literacy
Talent development.
As we embark on Love Uganda Foundation becoming a first-class children's center, it will be our commitment to provide these core competencies to all those who will emerge from it.
Child advocacy and community outreach.
This covers all interventions to empower children in especially difficult circumstances. It aims at encouraging commitment and action from the community to empower children / young people.
We will work towards implementing:
Counselling, child recovery, and reunification with their families
Advocacy for children through media coverage
Child care and protection
Skills development for young people
Maternal and child health care
Parental education on good child care
Teaching parental skills, parental guidance, encouraging parental literacy, and cultural identity
Equipment for children's activities
Monitoring and evaluation of the above
Our current status.
1. Children's profile
Gender
Love Uganda Foundation enrolls almost equal numbers of female (48%) and male (52%) children.
Ethnicity
Our children reflect a broad tribal diversity with children from all over Uganda, though the majority come from Mukono, Wakiso, Kabale, Gulu, jinja, mbale and Kayunga. We accept children from anywhere in Uganda without any discrimination in tribe, race or religion.
Age
Love Uganda Foundation looks after children between the ages of 2 yrs-15 yrs. These are normally children abandoned by parents ,orphans or street children.
Accommodation
Children are currently accommodated in a bungalow house which is rented at shs. 1,000,000 ($270) with funds from the proceeds that come from our sister organization, Love Uganda Safaris, and well-wishers. The house has 3 beedrooms and 2 seating rooms, each beedroom with the capacity for over the boy's rooms accommodates 16 boys and the girl's room accommodates 14 girls. It also contains an indoor store, with a sitting  room/lounge and a dining hall where various activities are conducted. There is also rooms for the caretakers/staff and volunteers located outside and the washrooms,  pit-latrines and a spacious compound where our children get an opportunity to play and exercise their skills.
We would like to construct our own Children's home to enable us care for more children. Read more about our House construction project
2. Governance of Love Uganda Foundation.
LUF is still a small foundation though it is working to attain the administration expected of a modern children's center and the foundation at large. The role of each area of management will be defined in the governance policy document, but the following shows the structure of governance at Love Uganda Foundation;-
The Founders' Board.
Governance is vested in the Foundation's Board of Directors, committed to steering Love Uganda Foundation to excellence amid the challenges of the 21st century. The board members also serve as trustees of Love Uganda Foundation. The members are nominated at the annual general meeting.
Staffing.
Currently, LUF has 13 full-time employees and several volunteers. Our full-time staff comprises of one Centre administrator and two care staff. Volunteers are normally university students who aim at giving back to society. They come from Makerere University, Multi-tech Business School, and local churches.
Below is a list of our staff and their duties;
NAME
POSITION
Mr. KYEYUNE ROBERT PAUL
Team Leader
Ms. NAMUTEBI SHARIFAH
Administrator
Mr. MUKISA DEO
Coordinator- Mukono region
Mr. KYOYITA ISRAEL
Programs Coordinator
Mrs. MURUNGI BRENDA
Creative Arts Coordinator / Social Worker
Mrs. KISAKYE JOAN
Social Worker
Mr. JOSEPH TOPACH
Coordinator- Gulu region
Mr. MANDELA WILFRED

Mrs. KATUMBA MONICA

Mrs. BANURA CHRISTINE

Mrs. KATUSHABE HOPE

Mrs. NAMBUSI MARIAM

Mrs. NAMAGEMBE SYLIVIA

Coordinator- Gulu region

Accountant

Grants and Partnership Officer

Media and Communications Officer

Legal officer

Social Worker
3. Major stakeholders to seek affiliation in the next five years.
Over the next five years, LUF plans to strengthen its partnership and affiliations with local based, and international children's organizations, Companies, and Individuals government agencies to mention but a few
Achievements
Currently the Foundation is sponsoring 300 Orphans & Vulnerable children under our External Program in the community schools located in the various regions our Love Activity team visits. Our social work team identifies children/orphans from the poorest families in a community that have failed to access education due to poverty. Currently, this external program is going on in 4 communities; Kalagi, Kateete, Kijabijo under the campaign of "Keep an Orphan in School" and we hope to increase the number of children by 70% in the next 3 years of our strategic year plan 2018-2022.

We have been able to establish various community outreach programs which tackle various issues in life among widows, the elderly, the disabled, and under-age girls.  These have greatly benefited the communities. Our widows' projects in Gulu, Kateete, Kabale, and Kalagi have provided an opportunity for widows and women to gain skills from which they can earn a living.

Not only do we train them in skills but we also teach them about many life aspects which include health and sanitation, HIV/AIDS awareness, and poverty eradication methods based on godly principles. This has greatly impacted the women whom we have contacted in our External Program. We also donate basic life materials to them like food, clothes, sanitary pads to mention but a few, as this is one step to restoring hope and empowering these great mothers.
Direct Beneficiaries.
Orphaned children, with either one parent or none, under our internal and external programs.
20 families in local villages
Elderly women and widows from the districts of Gulu, Kabale, and Kateete – Mukono district.
WHAT WE DO