Keeping Orphans and Vulnerable Children in School
A project directed towards giving OVCs a brighter future.
Vulnerable and Orphan children under this project are those who have lost one or both of their parents, live with relatives, or are facing financial difficulties, especially having difficulties in accessing Education.
Love Uganda Foundation's top priority under this project is to see that these Orphans and Vulnerable Children (OVCs), Children infected with HIV/AIDs get back to school and ensure they stay in school.
We help link these Beneficiaries to available sponsors who support their education through the provision of school fees/tuition and Scholastic Materials. In search of sponsors who can help them support their education, we keep running fundraising campaigns to support raising funds for their education.
Be part of this cause today and contribute towards giving a brighter future to Orphans and Vulnerable Children in Uganda. We can do this if we join hands.
Become our Volunteer Ambassador in raising awareness in your Country of "Keeping OVCs in School"
Be an education Sponsor for one of our Orphans and Vulnerable Children.
Give a donation towards this project
Share the project fundraising campaign with friends and families.
Partner With us to enhance the future generation.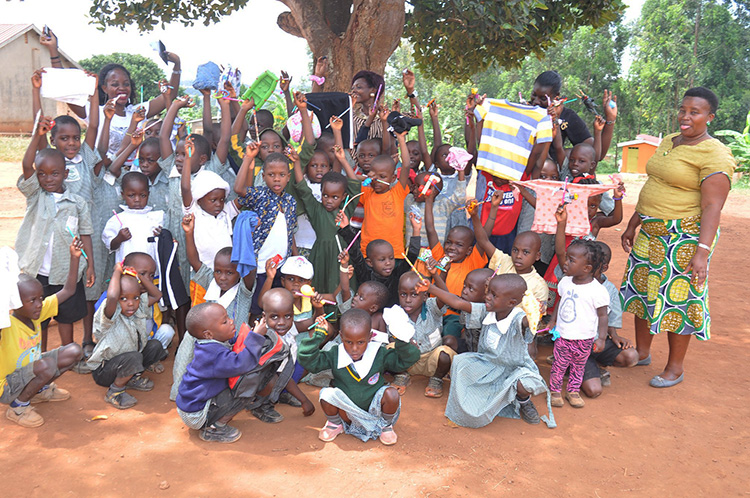 Brief history of OVCs in Uganda- Orphans & Vulnerable Children
According to the United Nations Children's Fund (UNICEF), Children below the age of 15 account for 11 per cent of the 1.6 million Ugandans living with HIV (2013 estimates). The numbers are believed to have increased or dropped by less figures in 2023. In a 2015 Situation Analysis of Children in Uganda report produced by the Ugandan Ministry of Gender, Labor and Social Development, household survey data was used to estimate the number of vulnerable children in all four major regions of Uganda.
Household survey data indicated that 14 percent of children in Uganda had been orphaned (i.e., experienced the loss of one or both parents), which is equivalent to a national total of 2.43 million out of 17.1 million children under age 18. According to the Uganda-specific definition and indicators developed during this research, nationally, up to 96 percent of children have some level of vulnerability. Within this broad grouping of vulnerable children, degrees of vulnerability can be distinguished for prioritization of support services. That is, nationally, 51 percent of children in Uganda are considered moderately or critically vulnerable, equivalent to a national total of approximately 8 million vulnerable children in Uganda. One would be right to say that HIV/AIDS is one of the great enemies of achieving goals of the Orphans and other Vulnerable Children in Uganda. The higher the numbers of people who acquire HIV/AIDS per day, the more children become orphans and vulnerable.
Be an education Sponsor for one of our Orphans and Vulnerable Children.