DONATE IN UGANDA – DONATE IN AFRICA
Love Uganda Foundation is a charity non-governmental organization based in Uganda. The organization established in 2008 has been helping to improve the lives of children especially orphans and communities in Africa through education, outreaches, health and sanitation as well as skills development. We believe in building a brighter future by investing in the children, the people and communities that they live in. We are committed to empowering the future generation.
Charity organizations can work but need your support, Love Uganda Foundation is on ground in Uganda the nation with the world's youngest generation. Actions are required and you can help us by donating now. You can be a drop in an ocean with various materials and ways to impact the life of the Ugandan people, especially the children.
Donations to Love Uganda Foundation can be made in various forms that include clothes, shoes and scholastic materials. Because of the gross poverty in the region, many of the children have no basic needs like clothes; you can put a smile on their face with just one shirt and a pair of shorts. Some to date have to walk long distances barefooted to school and round their communities. This exposes them to various infections and some dropout of school due to similar reasons. We can encourage them to keep in school with a pair of shoes and scholastic materials like books and pencils to better their learning environment.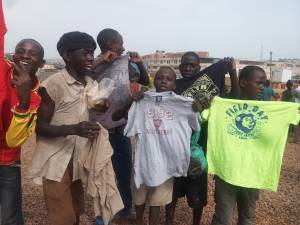 Many of the children in Uganda are girls and they account for many of the dropouts in the country. This is attributed to many reasons among which include lack of sanitary materials during their monthly periods. They drop out as they fear shame and being ridiculed by their male counterparts. Love Uganda Foundation aims at combating the vice to reduce the count of early marriages and drop outs. The 'Keep a girl in school program' is one where we administer sex education to teenage girls and their male counterparts. The charity organization goes as far as providing sanitary pads. For as little as $1 you can buy a pair and keep a girl in school.
Donations like yours have helped us work better, currently efforts of our partners and donors enabled us acquire a charity home which we are currently renting. However, we would like to own our very own home one day to cut down the numerous costs. Donate now towards the home construction to enable us have tomorrow's generation accommodated in a well-planned and conducive environment. Get involved and join the cause of empowering the orphans in Uganda.