.Teenage pregnancy is defined by the United Nations Children Fund (UNICEF) as a teenage girl who gets pregnant around the ages of 13-19. Is a girl who has not reached legal adulthood and in this case for Uganda its 18 years of age. The statistics on the rise of teenage pregnancies and early marriages where some girls are being traded for food at around the age of 12 years;
The Daily Monitor newspaper reported that Luweero Hospital recorded around 1388 teenage pregnancies between June 2020 and June 2021. Kitgum Diocese registered 3,430 teenage pregnancies between March and October 2020. In the Kabale district, 1,014 teenage pregnancies were recorded between January and September 2020 in Budaka. The above are just examples of thousands of girls that could be suffering quietly.
In Uganda, the teenage pregnancy percentage stands at 25% which is worrying as its 28% in the Sub-Saharan countries of Africa. Teenage pregnancy has been fueled by the outbreak of COVID-19 in Uganda and the closure of schools by the President of Uganda. It's now close to 15 months since schools have been closed added up by the prolonged lockdown. So many girls have been victims of the pandemic as they have been left vulnerable to teenage pregnancy, early childhood marriage, and gender-based violence.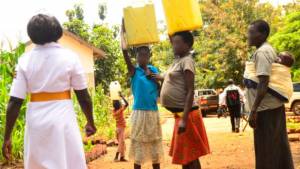 Many girls have been left without a partner and find themselves having to be the breadwinners of their families. Many girls have got involved in transactional sex with men who take advantage of their need for money to get necessities like sanitary towels.
The limited access to sexual reproductive health rights and family planning services and resources has fueled teenage pregnancies in Uganda.
The myths around the use of contraceptives by women and girls create a gap. The girls do not know what is right to be used and not to be used. 60% of the sexually active adolescent girls have unmet the need for modern contraception and the number has increased during COVID-19. The use of family planning would help in reducing teenage pregnancies.
The closure of schools for almost 15 months now has also increased the number of teenage pregnancies in Uganda. As they are involved in sexual activities. It has been recorded that many parents are not used to leaving with their children for a long period.  The closer of schools come to them as a surprise and they were not ready for it.  It's now confirmed that schools are safer havens for children. So ask yourself this question, what next for a young mother?
Many girls are engaged in forced labor to provide financial support to their families. This contradicts with the Employment Act, 2006 that only authorizes children under the age of 14 years to perform light work under the supervision of an adult aged 18 years. As it was reported in Daily Monitor "A 14-year-old mother says that the man who impregnated her promised her a job and money and after being told that she was pregnant the man escaped from the village.
At Love Uganda Foundation our question comes in; what next for a young mother?
Can answers be got for these questions? How can we help a teenage mother achieve her desired dream even after the baby?
The Ministry of Education and Sports has given teenage mothers a second chance to go back to school for a bright future. But again a question is how many will go back to school and study? Do they have the money for fees? And what about the stigma from teachers and students.  The Daily Monitor reported that "many teenage mothers have been chased away from home by their parents because they refused to disclose who made them pregnant. This makes it hard for them to go back to school. Due to hard situations in getting money to feed both themselves and the baby.
Guidance and counseling should be performed for these teenage mothers. This is because of the trauma they went through during and after the pregnancy.  Some teenagers got complications during the pregnancy and the time of delivery. Many went under C-section since their bones were not strong enough to push the baby. Too many were forced to abort the babies by their parents to avoid shame.
It's also the role of parents, guardians, community leaders, and health workers to help these young girls. They should tell them the dangers of getting pregnant. And guide those who got pregnant to deliver safely. And prepare them to be ready to carry on with their studies as soon as they can.
In conclusion, teenage pregnancies; what next for a young mother? Is a question directed to all of us? Love Uganda Foundation and Volunteering in Uganda cannot answer the question but all we have to do is to work hand in hand to reach out to those teenage mothers through outreaches. This is to restore hope and to show them that it is not the end of the road. Donations and sponsorships can help out teenage mothers to go back and study.