Astonishing memories as Priscilla- United Kingdom Citizen volunteers in Uganda for 2 weeks
Most places and people you talk to will freak you out about volunteers in Uganda. Those people usually have never been to Africa. They just hear stories about war after war after war and think, "Well, Uganda is in Africa, so they must be in a war and have all kinds of crime and chaos going on, so obviously if you go there, you will probably die.
They get visions of giant killer bugs, insane mosquitoes, getting deathly ill, getting abducted and killed. But Uganda is a safer place than you can never thing.
Priscilla Hardweir is a volunteer in uganda from United Kingdom that came to work with us at our orphanage in 27 December 2017 though she had couple of things to do in Uganda because it was her first time to come to the pearl of Africa. She visited many places in Uganda such as Gulu, Murchison falls national park, Sanyu babies home and many others. She had two weeks in Uganda therefore she was departing back to United Kingdom on 11th January 2018.
She visited the LUF home at first on 31 December because she wanted to donate some things to our kids and also spend some time with our kids. She brought donations from UK such as clothes, toys, shoes, books, watches, mp3 Bluetooth speakers and many others. She had fun with kids that day like face painting, playing games with them. She had lunch with the kids at LUF orphanage.
On 8th January 2018 she started her volunteering with Love Uganda Foundation by visiting the katete community where we adopted some kids that are at our orphanage. She visited every parents home and heard their stories and the challenges they face, the amazing thing is she went with the kids that came from Katete. The parents and relatives of the kids where very happy to see them again because they had spent time without seeing them, the kids were looking healthy because we take good care about them. On the 2nd day she visited the Kalagi community where she donated baby clothes to their babies and then had their stories and on the 3rd day she visited the Kampala slums and heard their stories too and on 11th January 2018 she was dropped at the airport to fly back to United Kingdom.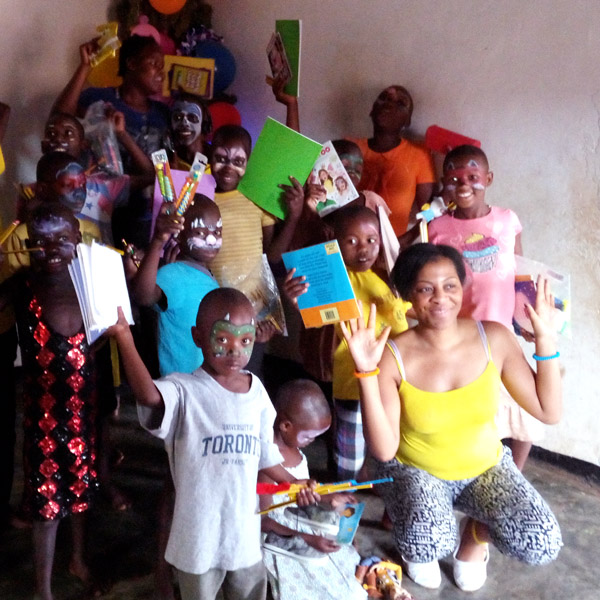 In conclusion, we thank Priscilla for the Good heart of loving selecting to volunteer with love Uganda foundation and please the door is open for you if you happen to come back. We all the people in the Diaspora to come and volunteer with Love Uganda Foundation. As your planning your resolution for this year add there to volunteer with us. Medical teams, technicians, teachers and everyone in the Diaspora no matter what is your profession, just come and volunteer with us.