Kalagi community empowerment by Love Uganda Foundation
It is important to be engaged and relevant to the community especially one where you are positioned. Becoming an active member in the local area connects you with the people of the community you operate as well as increasing the awareness of the organization, what it does, and most importantly, it is a community empowerment act.
The fact that Love Uganda foundation is now a fully registered NGO operating in Uganda, it is now even more than determined to change lives and empower the next generation starting from Kalagi community empowerment; our home area.
We chose to donate several items to the community. We didn't discriminate, we invite masses of women, children, youth and men to give them the best we would equip them before the children officially reported back for this academic year.
Our major aim was to reach out to the young children who were going back to school, give them some scholastic materials, empower them with encouraging words and then send them back to school in a more motivated way. And yes, we did that, even if we didn't give them the best they needed, we at least gave them the best we had.
This was to ensure that every child is entitled to education. The fact that the rightest way to tackle the roots of poverty in Uganda is to stop illiteracy. So minor issues like lack of scholastic materials shouldn't be a reason to fail a Ugandan child go to school.
This is the time we saw the children of Kalagi happiest, receiving the books, pencils, pens, geometry sets, water bottles, rubbers, colors and crayons, shoes and sandals, text books, playing toys, some even getting bags and clothes. It was surely an exciting moment. Donating to kids is one thing that can never fail to amuse you.
We also targeted the local women of Kalagi. We particularly wanted to talk to them, encourage them and advise them. We asked them about their major challenges as women in Kalagi so that we could know where to tackle if we are to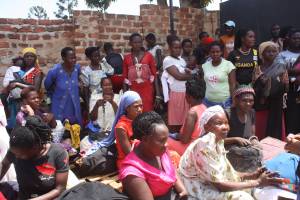 empower the women in Kalagi. We urged the ladies to educate their children at every cost, because educating a child is the biggest saving account you can ever have.
Ladies received countless clothes, shoes, hand bags, scholastic materials for their kids, food stuffs, and most importantly, they received unity, team work and knowledge. Remember knowledge is power. Men also got a few clothes and words of wisdom, we believe that what we shared on that day, it will push the kalagi people another mileage further. We totally just made sure that no one went back home without a thing.
Don't convince yourself that you have nothing to give, no matter how small it may be it brings a change in someone's life.