Uganda orphans deeply pleased as iTel Mobile visits Love Uganda Foundation Orphanage Home
29th September 2017 was phenomenal day to Uganda orphans at Love Uganda orphanage (LUF) home, located at Kalagi village a few minutes' drive from Mukono town. The LUF orphans received deep, life-changing inspirations and motivations from the iTel team.
We were deeply honored to host Uganda's mobile Phone giants, Itel Uganda accompanied by their Brand Ambassador – Uganda's popular and inspirational female musician Ms. Rehema Namakula who didn't only entertain, but also profoundly inspired and motivated the LUF orphans. The children response to Rehema was massive as depicted in their energetic performance and dance. This was tremendous, the Itel Mobile team couldn't hold it but danced alongside them.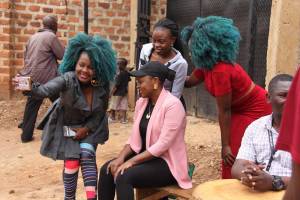 Itel Mobile Uganda brought not only this amazing singer but also most importantly priceless donations including books, t-shirts, rice, posho, beans, sugar, cooking oil and so many others to our children at Love Uganda Foundation that were over to LUF stuff by Rema the brand ambassador of Itel mobile Uganda.
"Be good children, run for your dream and you'll be that person you want to become" – Says Ms. Ambassador. She also thanked and encouraged Love Uganda foundation for the good job.
Conclusively, such imperative visit and words of wisdom to the children (mostly Uganda orphans) are important to build a solid generation and to iTel Mobile, we are truly grateful for the love and support extended to these wanting orphans.
You can feel free to join Love Uganda Foundation in this cause to change lives of orphans by:
Let us know how you can support these endangered orphans by contacting us on info@loveugandafoundation.org or donations@loveugandafoundation.org